Alamo: Shootout with some twists
The case has been made repeatedly by fans and pundits alike as the Alamo Bowl nears. The game between Oregon and Texas Christian on January 2nd will be a high scoring affair. For TCU the points may prove a little harder to come by than earlier in the season.
To be sure, there will be many points scored. The over/under for the game is currently around 78 meaning that the people willing to put money on the line think each team will score 39 points. That would actually be less than their season averages of 43.2 points per game for the Ducks and 41.7 points per game for the Horned Frogs. So the bettors think this will be relatively more of a defensive struggle than both teams are accustomed to playing this year.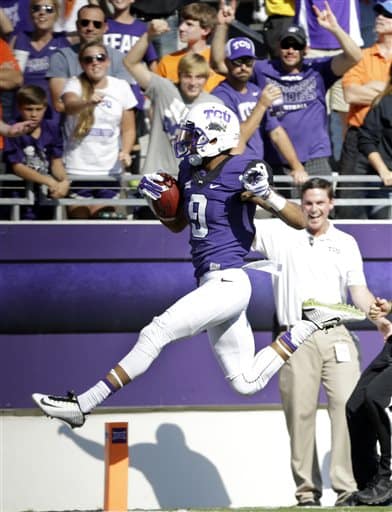 It also might reflect the fact that TCU lost a big chunk of their offense in early November when star wide receiver Josh Doctson went down with a wrist injury. At that point of the college football season the Mansfield (Tex.) senior was leading the nation in receiving yards per game at 132.7; 40% of their team total.
"He's definitely a huge weapon for them," admitted Oregon defensive end DeForest Buckner. "It'll ease up the pressure on the secondary and the whole defense in general so it's a benefit for us and we just have to take advantage of something like that."
And like all coins, this one has two sides.
"It's a negative in some sense, but the other part is you don't know what you're going to do on offense because you don't have a Josh Doctson," said head coach Gary Patterson of the absence of Doctson. "So we're going to have to score some points if we want to beat Oregon."
TCU is not without air weapons ready to step in and try to replace the production of one of the nation's top wideouts. Freshman KaVontae Turpin has caught 40 balls for 584 yards and senior Kolby Listenby has gathered 29 receptions for 598. Former RB Shaun Nixon has improved as a receiver in his RFr season, sophomore Emanuel Porter and freshman Jarrison Stewart have all helped fill the post-Doctson void.
Leading the attack is the highly productive dual-threat Trevone Boykin who rushed for 612 yards and 9 touchdowns while passing for 3575 yards and 31 more TD's.
"He's going to be one of the best quarterbacks we go against this whole season," said Buckner. "He's a good dual-threat quarterback, he can hurt us with his feet, they've got designed running plays just for him, and he can hurt us with his arm too with the athletes he's got around him. We have to really contain him in the game, try to limit the things he can do."
"There's not really anyone like him in the Pac-12 this year," added Oregon head coach Mark Helfrich. "He's not a huge guy in stature as a passer and what they do. But then he can really throw it and really run. He's an elite passer, he's an elite runner and they have a great system."
Aside from the loss of Doctson and the 8.6 points per game he represents, the Oregon defense may well be better than their deplorable statistics. The defense ranks a dismal 113 of 127 nationally in scoring defense at 36.8 points per game given up. But that number comes with an asterisk mark or two.
28 of their points were given up in the 5 overtime sessions they played. In regulation the Duck defense moves up to (a still deplorable) No. 100 in the nation. And playing scrubs against Eastern Washington and Georgia State in the second half hurt their numbers considerably, as did the 62 points they gave up in game five to Utah while Vernon Adams was sidelined by a broken finger.
Looking at Duck Sports Authority's weekly unit grades and analysis, you see a marked improvement in the defensive units the last five games. Until halftime of the Oregon State game the defense actually seemed to be getting quite good, including solid performances against Cal, Stanford and USC.
Saturday in the AlamoDome has all the makings of a great college football game. Name brand teams, high-scoring offenses plus some questions marks on both sides of the ball. While the game will likely be a shootout, other factors than the offenses will decide the outcome.