Adams and Addison take the Combine stage
Tyler Johnstone started out Oregon's representation at the NFL Combine in Indianapolis right on Friday. The highly talented offensive tackle proved to professional teams that his recovery from two ACL surgeries appears complete. Though recurrence still may concern them, current athleticism was no longer a question.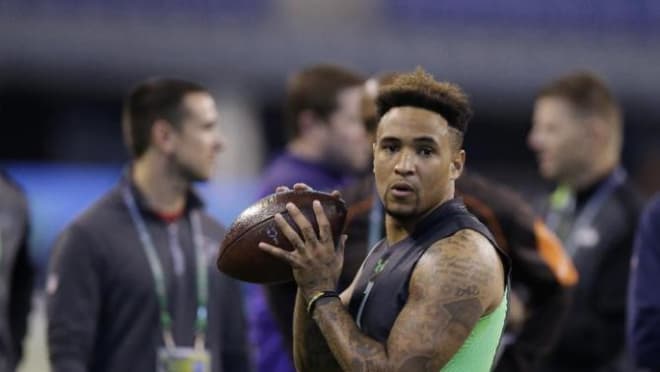 On Saturday the next pair of Ducks had their turn at on field trials with quarterback Vernon Adams and wide receiver Bralon Addison looking to make their impressions.
The Numbers
2016 Combine Results
| Category | Vernon Adams | Average QB score | Bralon Addison | Average WR Score |
| --- | --- | --- | --- | --- |
| Height | 5-foot-11 | | 5-foot-9 | |
| Arm Length | 30-1/4" | | 29-1/2" | |
| Weight | 200 pounds | | 197 pounds | |
| Hands | 9-1/8" | | 9-1/8" | |
| 40-yard dash (sec.) | 4.83 | 4.84 | 4.66 | 4.55 |
| Bench Press (reps @225) | N/A | N/A | 13 | 13.8 |
| Broad Jump (In.) | 114 | 113 | 116 | 122 |
| 3-cone (sec.) | 6.82 | 7.10 | 6.95 | 6.97 |
| 20-yard shuttle (sec.) | N/A | N/A | 4.14 | 4.26 |
| Vertical Jump (in.) | 29.5 | 31.1 | 34.5 | 34.4 |
Neither of the two Ducks had exceptional numbers although they both proved to belong with the group of top professional prospects. The static measurements held no surprises with Adams 5-foot-11 and Addison 5-foot-9. Dynamically Adams was best in the 3-cone drill while Addison's best event was the 20-yard shuttle.
Vernon Adams
For Adams this Combine was more about his throwing ability than his measurables. Teams know that he is a few inches short of ideal for an NFL quarterback and that he is of average speed. What Adams did best throughout his showing was throw the football. On Friday he was one of the three QB's throwing for receivers, then on Saturday he was making the throws for himself. But both days the NFL staffs were in the stands watching what he could do.
In terms of arm strength he showed that he had plenty to make all the throws required. He also exhibited accuracy and touch on the shorter routes, and his deep balls are as sweet as you could ask for. Receivers seemed to have an easy time hanging onto his passes. He also was able to easily pick up the timing of the various throwing drills right away. Some QB's took a couple throws to get each drill down; Adams did not.

Even though this year the QB's were a relatively quiet group, Adams seemed to be the most enthusiastic leader of the bunch. This is an intangible some scouts certainly took note of.
Bottom Line: Adams earned his Combine invite on the strength of his college career and Shrine Game performance.

Vernon Adams Shrine Game Highlights

Going into the Combine Adams graded as a 50/50 chance to make an NFL roster. Based on his two-day throwing performance he likely raised that to better-than-average chance to make NFL roster.
Bralon Addison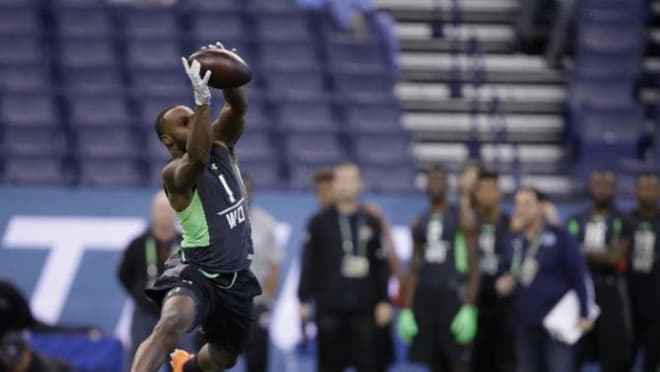 Like his quarterback teammate, Bralon Addison had plenty to prove to professional teams. At Oregon he was a big-time playmaker as a receiver and an explosive return man on special teams. The concerns with Addison were that he is not especially long nor especially fast.
The dynamic numbers probably did not do Addison any favors. His 4.66 40 yard dash was a bit slow even amongst a relatively slow receiver group this year. We calculated that the average 40-time this year in the WR group was 4.55 so at 5-foot-9 most NFL teams would expect more.
Still though, he did bear out his reputation for quick hips and solid acceleration with good runs on the 3-cone and especially the 20-yard shuttle.
He did have a couple unfortunate drops early in the drills but watching him over the whole day it is unlikely teams held that against him. His ball skills clearly are good and that has been obvious for years.
Bottom line: It did not look like Addison did anything to change the minds on the street that in his first year he will be an NFL backup and special teams player. His conversion from high school quarterback to NFL wide receiver should become reality soon.